We collaborate with organisations of all shapes and sizes, with our unique approach to mental wellbeing training and support.
Through our interactive online workshops and the Companion app, we help employees maintain their mental wellbeing and build their resilience.
Our workshops, audio guides and exercises are based on proven psychological techniques such as Cognitive Behavioural Therapy (CBT). Our methods really work.
Title
The Stress & Anxiety Companion
The perfect partner
Learn how to handle even the most difficult days.
From office politics to imposter syndrome, COVID restrictions to hybrid working, the modern workplace can be pretty stressful sometimes.
Our app will give you the guidance, the tools and the support you need to take on even the most demanding days.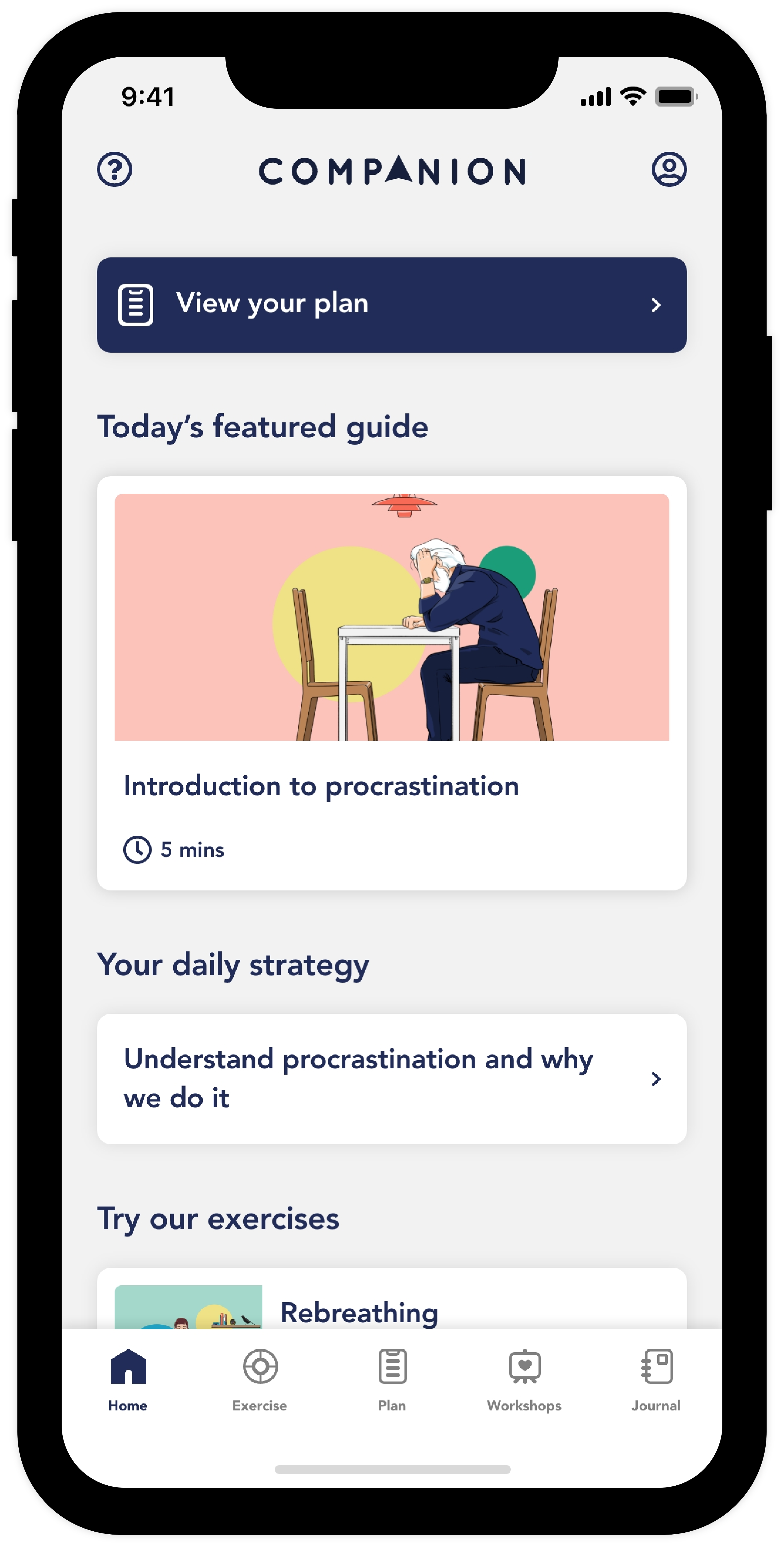 It's all about you
Personalised mental wellbeing plans
Create your personalised mental wellbeing plan full of actionable strategies written by our team of experts.
Receive a daily strategy prompt each morning helping you to build healthy habits.
Update your plan whenever your needs change.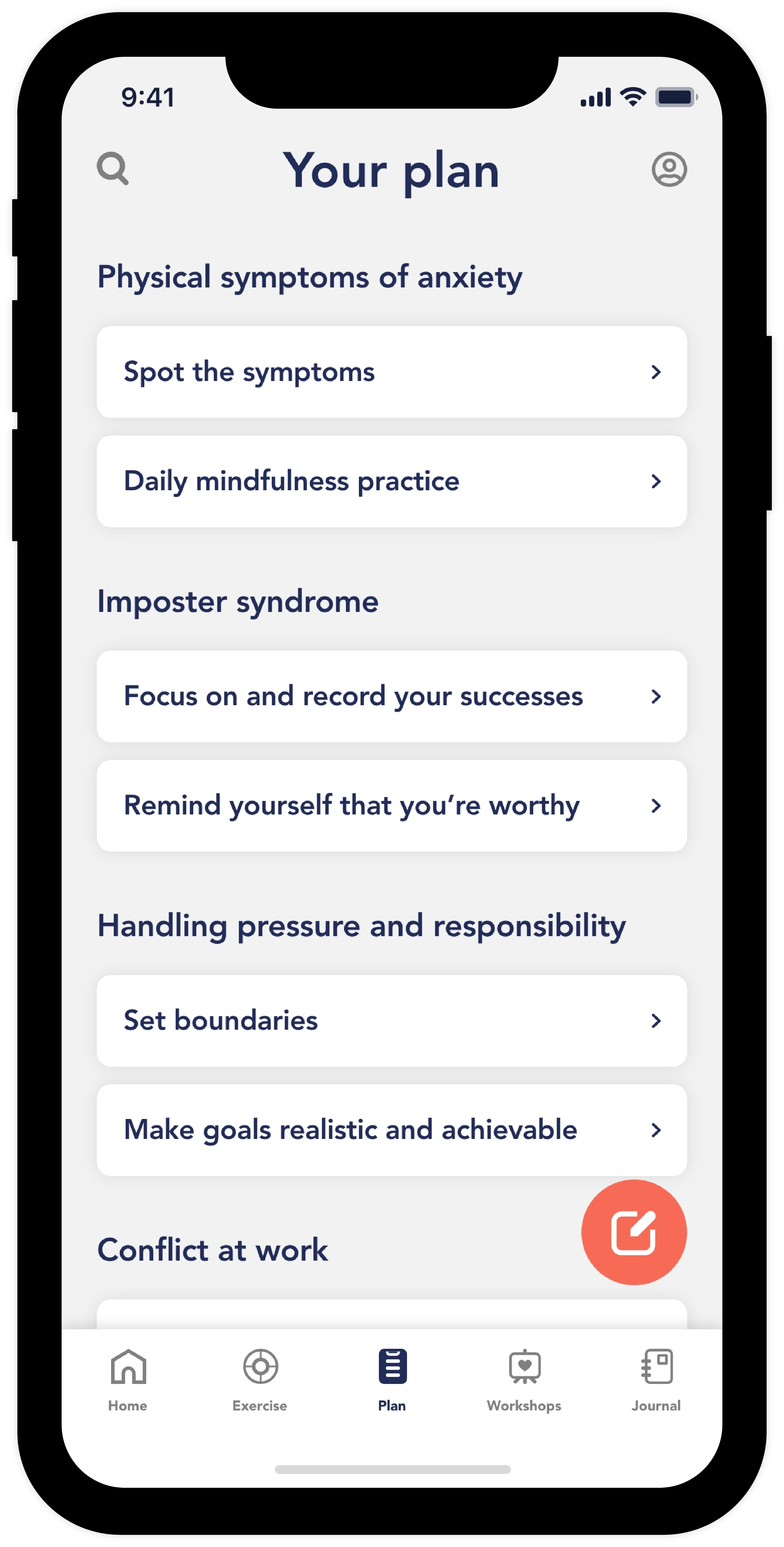 Instant expertise
A huge library of expert advice
Companion's library of expert audio guides is constantly being updated, and right now there are 300+ guides covering over 40 different topics.
If you want to learn about stress, discover how to communicate more effectively or find a better work/life balance, there's an expert audio guide just for you.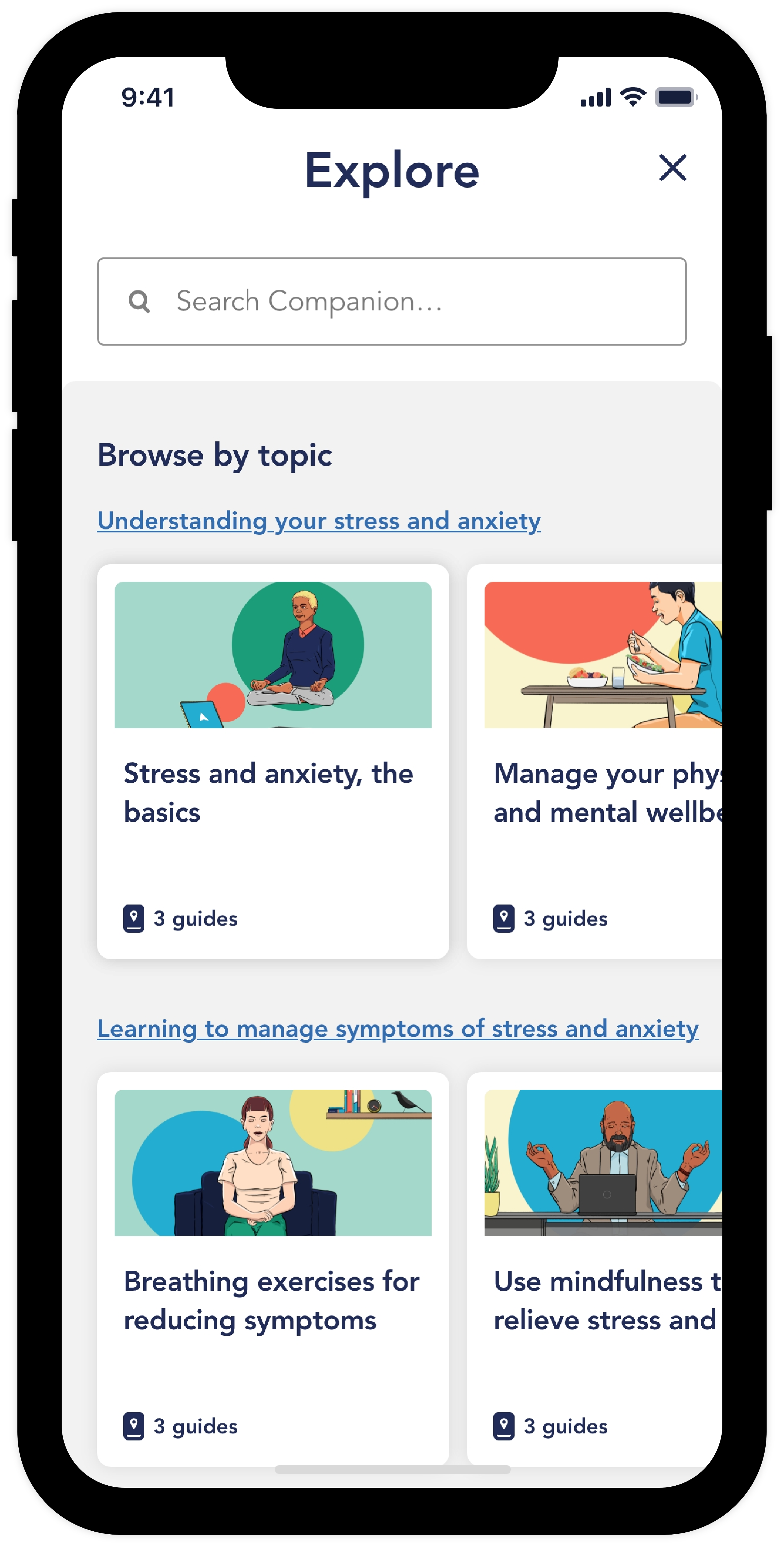 Tried and tested tools
Discover proven ways to improve your wellbeing at work
Our audio guides use proven psychological techniques to help you make a real difference to your life.
They cover everything from mindfulness to managing problematic thinking, goal setting and imposter syndrome.
And they're short so you can listen whenever you have a moment.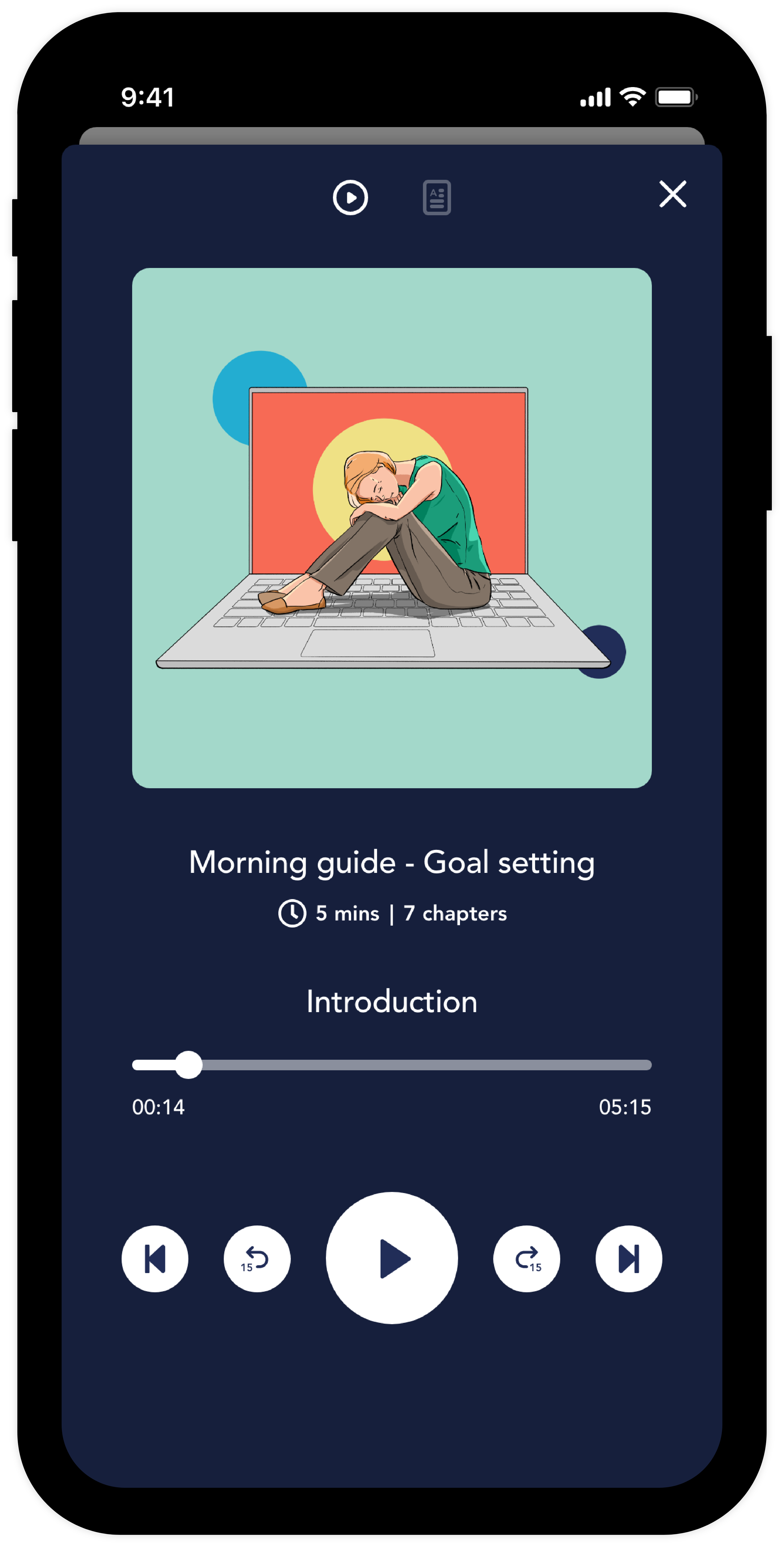 Feel better forever
Learn strategies that'll help you throughout your career
Companion will teach you strategies that you can use to cope with whatever your working life throws at you.
By learning why you feel the way you do, you'll discover effective ways to improve your workplace wellbeing not just in the short-term, but in the long-term too.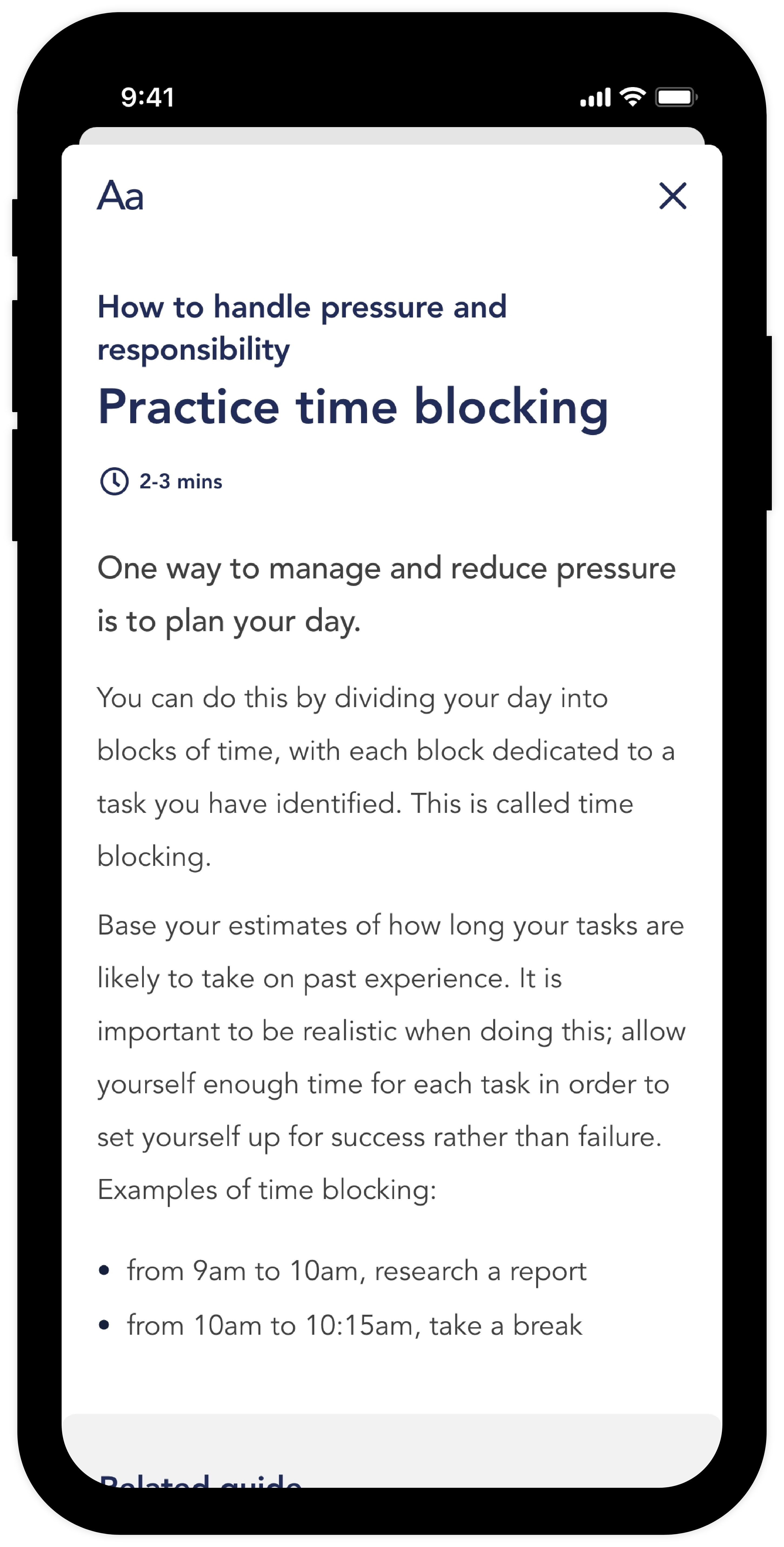 Don't just take our word for it
Companion is helping all kinds of people both feel better and do better.
We rolled Companion out to our full team of 50 employees to support their resilience and wellbeing. It's been very well received.
It's so perfectly complementary to the CBT I'm already having outside of work. It's been really helpful during an incredibly difficult time for me and my family.
Companion has not only become a key component of our onboarding process - existing employees love it too!